14 April, 2019: Interfaith Devotional for International Mother Earth Day
Join a group of like-minded people celebrating the most precious gift we all have: mother earth! Apr 14, 10:30 AM – 1:00 PM at the Bahá'í Community Centre, 65 Morey St, South Townsville QLD 4810, Australia
Visit https://www.interfaithtownsville.com/ for more information.
21 April, 2019: First Day of Ridvan Holy Day Celebration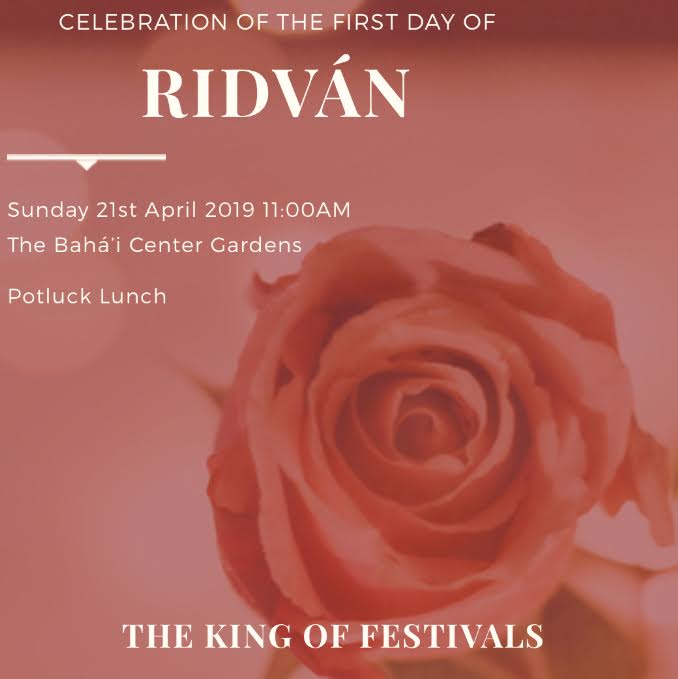 Bahá'í Feasts
The Bahá'í Calendar is composed of 19 months, each with 19 days. Each month begins with a Feast, which have the following dates: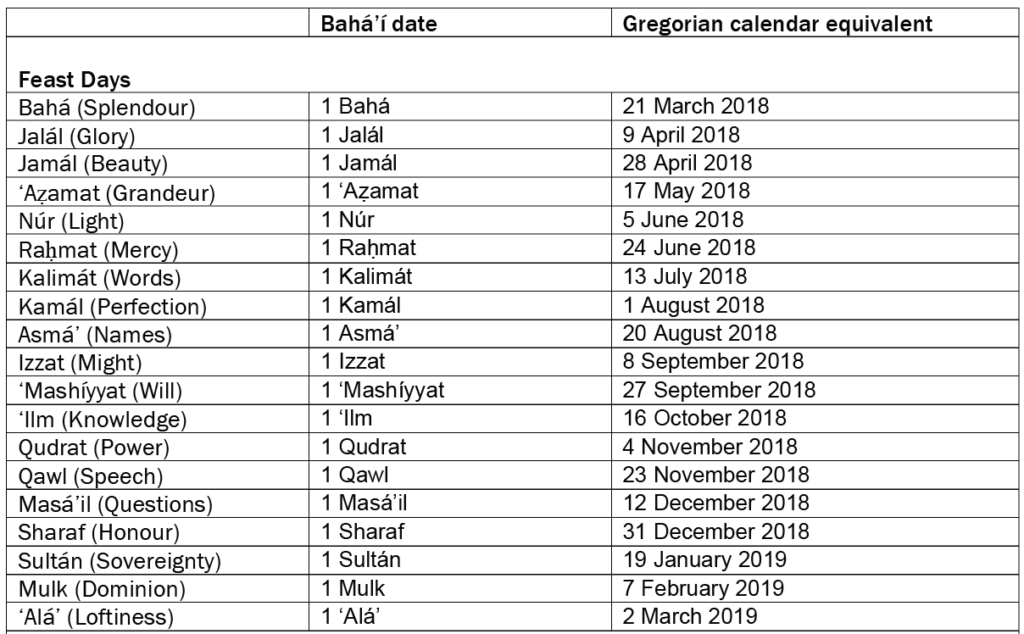 Bahá'í Holy Days
The following holy days are celebrated at the Bahá'í centre (or at friends' houses) every year. They are open to everyone.
Naw Ruz – New Year's day
Celebrated on 20-21 March. It's the beginning of the Bahá'í year. It is normally celebrated on 20 March after sunset.
Ridván – First day
21 April. The day in 1863 when Bahá'u'lláh left Baghdad and moved to the garden of Ridván where he stayed 12 days to farewell friends and visitors. During these 12 days Bahá'u'lláh formally declared His Mission.
Ridván – Ninth day
29 April. Bahá'u'lláh's family joins him in the garden of Ridván.
Ridván – Twelfth day
2 May. Bahá'u'lláh and His family leave for Constantinople (Istanbul).
Declaration of the Báb
23 May. The Báb declared His Mission on this day in 1844, in Shiraz, Iran.
Ascension of Bahá'u'lláh
29 May. Bahá'u'lláh passed away on this day in 1892.
Martyrdom of the Báb
9 July. The Báb was executed in 1850 by the Iranian Government.
Birth of the Báb
20 October. The Báb was born in Shiraz, Iran, in 1819.
Birth of Bahá'u'lláh
12 November. Bahá'u'lláh was born in Nur, Teheran, Iran, in 1817.
Bahá'ís take leave from work on these days.
Other Important Days
The Day of the Covenant
26 November.
Ascension of 'Abdu'l-Bahá
Normally celebrated at 2 am on 28 November, the day He passed away in 1921.
Intercalary Days (Ayyám-i-Há)
Between the last 2 months of the Bahá'í calendar, days reserved for gift giving, fun, enjoyment and looking after each other.
Bahá'í Fast
19 days of abstaining from food and drink between sunrise and sunset, every year between the 2nd and 20th of March.